Inter-Global Aviation LLC
Inter-Global Aviation LLC
Danbury, Connecticut
About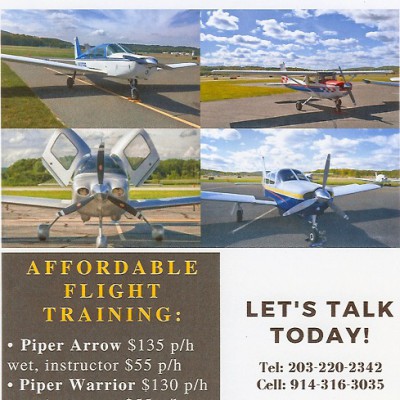 Inter-Global aviation is a Part 61 flight training school and we offers affordable flight training and flight time building.
Whether you are looking to get your private pilot certificate, commercial certificate, instrument rating, complex endorsement, or become a certified flight instructor, we can help you reach your goals inexpensively, efficiently, safely and quickly. With us you will save thousands of dollars on flight training and time building. Shave months/years off your time to get an airline pilot job. We will do everything possible to prepare you for your airline pilot career, starting from your first flying lesson you are going to be surrounded by those with shared goals and work together to attain those goals.
At INTER-GLOBAL AVIATION we offer an exiting and pleasant atmosphere to get a future started.
We hold SAFETY to the highest standards, our rate is the lowest in the thee state, best price best service guaranteed.
AIRPLANE RATE and INSTRUCTOR RATE
Piper Arrow $ 135per hour wet
Piper Cherokee Warrior $ 130 per our wet
Fully IFR C152 Aerobat $115per hour wet
Instructor Rate (Ground and Flight Time) 55p/h
New Cirrus SR20 Perspective, fully IFR 255per hour wet, Instructor (Ground and Flight Time) $65 per hour
GIFT CERTIFICATE AND DISCOVERY FLIGHTS AVAILABLE FOR $150 FOR 2 PERSON AT A TIME
If you haven´t yet seen Connecticut from the air you´re missing something! We offer you a unique way to see this beautiful part of the world from truly a bird´s eye view! Your experience will take you over Candlewood and the surrounding lakes, the Connecticut Shore and through out the Northeast. Your enjoyment is assured.
Aviation Training Facilities
Categories
Programs & Courses
Private Pilot (PPL)
Commercial Pilot (CPL)
Airline Transport Pilot (ATPL)
Multi Pilot License (MPL)
Flight Instructor (CFI / FI)
Flight Instructor - Instrument
Night Rating
Instrument Rating (IR)
Instrument (restricted)
Reviews
Write a Review
Inter-Global Aviation LLC has not yet been reviewed.
Inter-Global Aviation LLC Danbury CT Airport1 Wallingford rd Danbury CT 06810 United States