ATP Flight School
44 Locations
×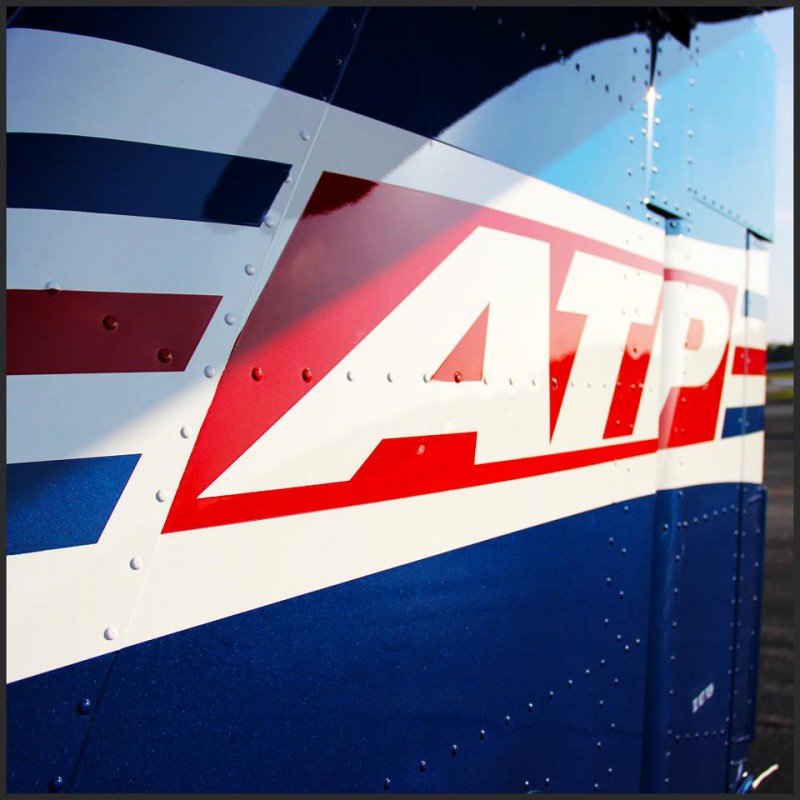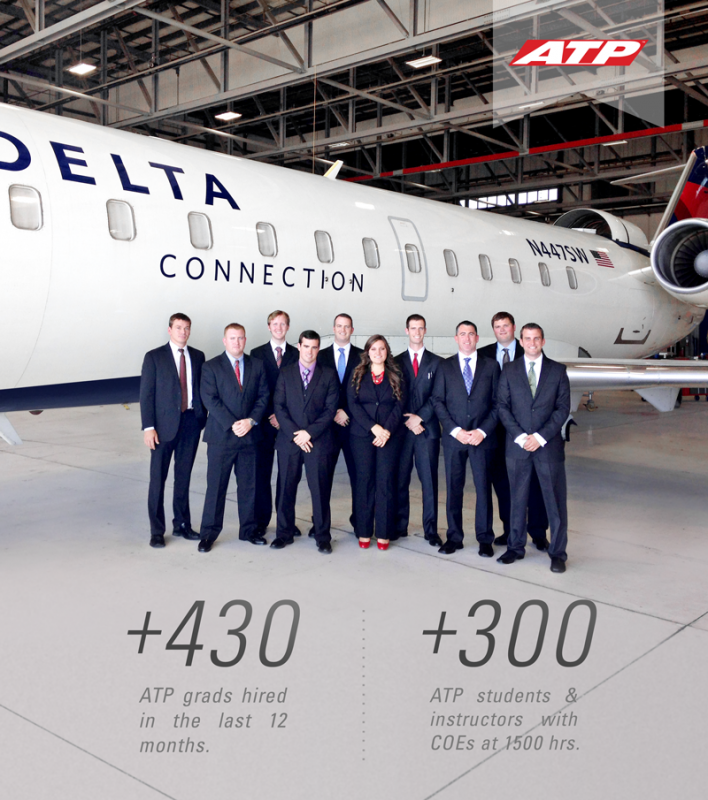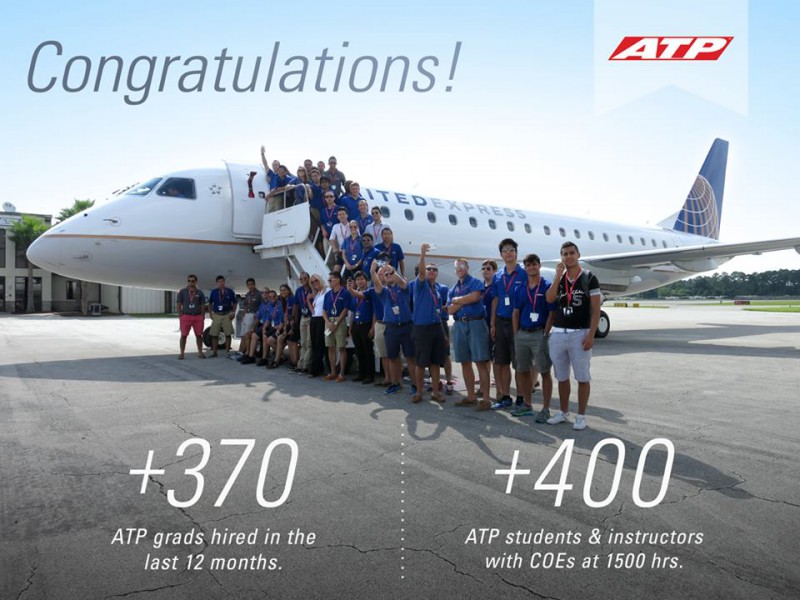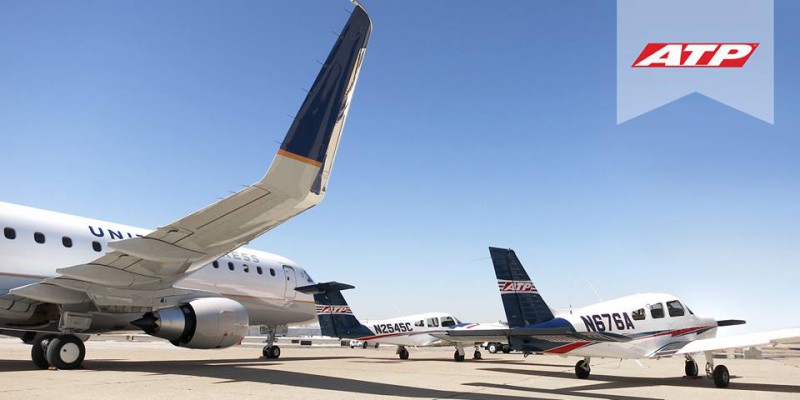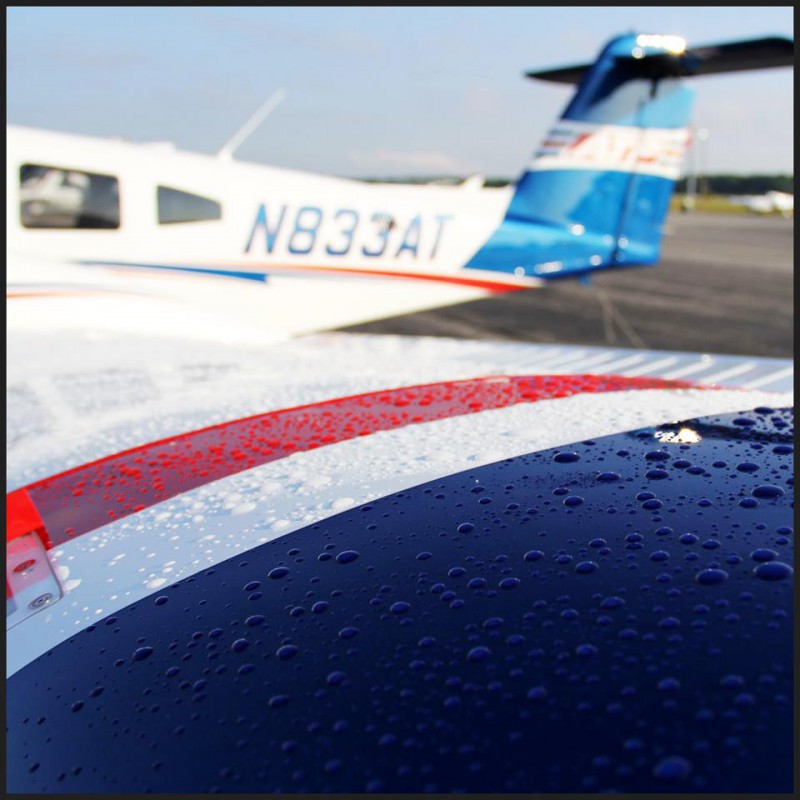 About
ATP offers more opportunities than any other flight school. Research your flight training options, and you will find out why so many successful professional pilots choose ATP.
ATP is your airline career solution from zero time to 1500 hours, with at least $11,000 in tuition reimbursement, sponsored by ATP´s airline alliances.
As a student at ATP you will get the competitive edge with airline-oriented flight training at a fixed cost in the shortest time frame. You receive instruction from the most qualified instructors and will proudly fly the world´s largest multi-engine fleet coast-to-coast in a dispatched, airline-style environment.
The multi-engine experience gained in ATP´s Airline Career Pilot Program is the most valuable experience you can have, preparing you for the next wave of airline hiring. Regional airlines, corporate and fractional operators will hire only the most qualified applicants. The higher level of qualifications this program provides is the first step in setting you apart from your peers.
AIRLINE CAREER PILOT PROGRAM
With airline-oriented, total immersion training from day one, you will graduate from the Airline Career Pilot Program in 9 months (from zero time), earning your Commercial Multi-Engine pilot certificate with Certified Flight Instructor certificates.
After graduating from the program, you receive a Guaranteed Flight Instructor Job with ATP, where you can earn up to $42,000 annually with tuition reimbursement and gain the necessary flight experience to reach the airline hiring minimums of 1500 flight hours.
During your time as a flight instructor, at 500 hours total flight time, you can begin earning at least $11,000 in airline sponsored tuition reimbursement.
Go from zero flight experience to becoming an airline pilot in just two years with flight training from ATP.
Contact Us Now
Aviation Training Facilities
Categories
Programs & Courses
Phoenix-Mesa Gateway Airport (IWA)
Mesa, AZ 85212
United States

+1 (800) 255-2877
Long Beach/Daugherty Field (LGB)
Long Beach, CA 90806
United States

+1 (800) 255-2877
Gwinnett County Airport, Briscoe Field (LZU)
Atlanta (Lawrenceville), GA 30045
United States

+1 (800) 255-2877
Warren County Airport (BWG)
Bowling Green, KY 42103
United States

+1 (800) 255-2877
Raleigh-Durham International Airport (RDU)
Raleigh-Durham, NC 27560
United States

+1 (800) 255-2877
Trenton Mercer County Airport (TTN)
Trenton, NJ 08628
United States

+1 (800) 255-2877
North Las Vegas Airport (VGT)
Las Vegas, NV 89119
United States

+1 (800) 255-2877
Addison Airport (ADS)
Dallas (Addison), TX 75001
United States

+1 (800) 255-2877
David Wayne Hooks Memorial Airport (DWH)
Houston, TX 77379
United States

+1 (800) 255-2877
Richmond International Airport
Richmond, VA 23250
United States

+1 (800) 255-2877
Eagle Creek Airpark
Indianapolis, IN 46254
United States

+1 (800) 255-2877
Concord Regional Airport (JQF)
Concord, NC 28027
United States

+1 (800) 255-2877
DuPage Airport
Chicago, IL 60185
United States

+1 (800) 255-2877
Long Island MacArthur Airport (ISP)
Ronkonkoma (Long Island), NY 11779
United States

+1 (800) ALL-ATPS
Smyrna Airport (MQY)
Smyrna, TN 37167
United States

+1 800-ALL-ATPS
Scottsdale Airport (SDL)
Scottsdale, AZ 85260
United States

+1 800-ALL-ATPS
Sacramento Executive Airport (SAC)
Sacramento, CA 95822
United States

+1 (800) 255-2877
Riverside Airport (RAL)
Riverside, CA 92504
United States

+1 (800) 255-2877
Montgomery Field (MYF)
San Diego, CA 92123
United States

+1 (800) 255-2877
St. Petersburg-Clearwater Airport (PIE)
Clearwater, FL 33762
United States

+1 (800) 255-2877
Craig Airport (CRG)
Jacksonville, FL 32225
United States

+1 (800) 255-2877
Daytona Beach International Airport (DAB)
Daytona Beach, FL 32114
United States

+1 (800) 255-2877
McClellan-Palomar Airport (CRQ)
Carlsbad, CA 92011
United States

+1 (800) 255-2877
Livermore Municipal Airport (LVK)
Livermore, CA 94551
United States

+1 (800) 255-2877
Centennial Airport (APA)
Denver, CO 80112
United States

+1 (800) 255-2877
Ogden-Hinckley Airport
Ogden, UT 84405
United States

+1 (800) 255-2877
Morristown Municipal Airport (MMU)
Morristown, NJ 07960
United States

+1 (800) 255-2877
Ft. Lauderdale Executive Airport (FXE)
Ft. Lauderdale, FL 33309
United States

+1 (904) 273-3018
Cobb County Airport – McCollum Field (RYY)
Kennesaw, GA 30144
United States

+1 (800) 255-2877
Peachtree Dekalb Airport (PDK)
Chamblee, GA 30341
United States

+1 (800) 255-2877
Arlington Airport (GKY)
Dallas (Arlington), TX 76018
United States

+1 (800) 255-2877
Tacoma Narrows Airport (TIW)
Gig Harbor, WA 98335
United States

800-ALL-ATPS
Hillsboro Airport (HIO)
Hillsboro, OR 97124
United States

800-ALL-ATPS
Spirit of St. Louis Airport (SUS)
Chesterfield, MO 63005
United States

800-ALL-ATPS
Riverside Airport (RVS)
Tulsa, OK 74132
United States

+1 (800) 255-2877
St. Petersburg-Clearwater Airport (PIE)
Clearwater, FL 33762
United States

800-ALL-ATPS
Collin County Regional Airport (TKI)
McKinney, TX 75069
United States

800-ALL-ATPS
Paine Field (PAE)
Everett, WA 98204
United States

800-ALL-ATPS
Atlanta Regional Airport - Falcon Field (FFC)
Peachtree City, GA 30269
United States

800-ALL-ATPS
Houston Southwest Airport (AXH)
Houston (Arcola), TX 77583
United States

800-ALL-ATPS
Naples Municipal Airport (APF)
Naples, FL 34104
United States

+1 (800) 255-2877
Hartford-Brainard Airport (HFD)
Hartford, CT 06114
United States

+1 (904) 273-3018
Camarillo Airport (CMA)
Camarillo, CA 93010
United States

+1 (904) 273-3018
New Castle Airport (ILG)
New Castle, DE 19720
United States

+1 (904) 273-3018