Infohas Cabin crew & hospitality training Institute
Rabat, Morocco
×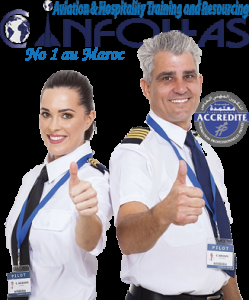 About
INFOHAS is a private accredited school specializing in the initial training of a cabin crew (air hostess and steward), the school is accredited by the Moroccan Ministry of Education and Professional training under n°13/DFPP/K0183/70, as well officially licensed by the Moroccan Civil Aviation authority under N°CN-F20/2013, offers training for the sector of tourism and airline industry.
On behalf of our entire team, we invite to experience the cabin crew training Institute Infohas. Our school is a place, which is modern in its thinking yet benefiting from a very long experience of tradition. Infohas has more than 18 years of teaching experience- and institution rich in tradition, yet vital, modernistic and dynamic in its approach.
We will apply a truly international approach - teaching cultural sensitivity, tolerance and appreciation of diverse tradition, values and social nuance. An exciting career in a growing industry as the aviation and tourism sector can open doors in the most fascinating, demanding and rewarding arenas. With their internationally recognised degree, many graduates of Infohas immediately recruited by in the biggest and best airlines.
Aviation Training Facilities
Categories
15 Rue Demnate - Hassan
Rabat 10 000
Morocco

+212 537 762025
Write a Review
Reviews
Infohas Cabin crew & hospitality training Institute has not been reviewed yet