Greece ›
Skies Aviation Academy
Skies Aviation Academy
Thessaloniki, Greece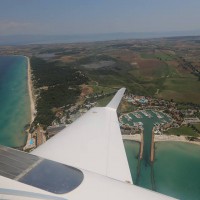 Skies Aviation Academy is the first Approved Training Organisation under EASA regulations in Greece (GR ATO-122), which offers flight instructional and theoretical training for the issue of the EASA Integrated and Modular Professional Pilot License with all associated Ratings. Thessaloniki International Airport is chosen as our base where we operate 330 days per year under VFR weather conditions.
OUR TRAINING PROGRAMS:
PILOT TRAINING
Integrated ATPL+ MCC
Modular ATPL
PPL
CPL/ME/IR
MCC
ICAO CPL/ME/IR Conversion
Instructor Courses (FI), (CRI), (IRI)
Hour Building
Night Rating
Renewal and Revalidation
Type Rating on B90/99/100/200
Type Rating on Piper-31T
Type Rating on ATR 42/72
Type Rating on AvroRJ - BAE 146
Type Rating on B737CL and 737NG (base training and line training up to 500H)
Type Rating on A320 (base training and line training up to 500H)
INITIAL CABIN CREW TRAINING
Cabin Crew Initial training includes a combination of both theoretical and practical components. This ensures the most realistic learning conditions, offering you the Cabin Crew Initial Training approved course according to the EASA regulations (Part CC).
By completing this course the student gains the attestation and will be eligible to work as Cabin Crew in Greek and International airlines.
For more information, please contact us.
Aviation Training Facilities
Categories
Flight School (airplane)
Class/Type Ratings
Multi-Time Building
Programs & Courses
Private Pilot (PPL)
Commercial Pilot (CPL)
Airline Transport Pilot (ATPL)
Flight Instructor (CFI / FI)
Flight Instructor - Instrument
Flight Instructor - Multi-Engine (MEI)
Night Rating
Instrument Rating (IR)
Multi-Engine (Class Rating)
Jet Orientation Course (JOT)
Multi-Crew Cooperation Course (MCC)
EASA ATPL Ground School
EASA ATPL Integrated Course
Class / Type Rating Courses
Airbus 320
ATR 42
ATR 72
AVRORJ / BAe 146
Boeing 737 - Classic
Boeing 737 - NG
Diamond Twin-Star
King Air 100
King Air 200
King Air 90
King Air 99
Piper PA31 Cheyenne I / II
Piper PA42 Cheyenne III
Reviews
Write a Review
Skies Aviation Academy is rated 5.0 stars based on 7 reviews
★★★★★
Excellent flight School, experienced instructors, nice sim, friendly staff.I would highly recommend this school
John on 13th Jun-16
★★★★★
SKIES AVIATION ACADEMY IS A GREAT TRAINING ORGANISATION, I must say that completing my flight training in skies aviation academy has been by far one of the best experiences in my life. I have nothing but nice things to say about the instructors and the administrative staffs and all my colleagues. They treated me as part of the family, and from the very first day I felt welcomed into this awesome family. I experienced Great quality of training with well-maintained fleet of modern aircraft in a very professional environment. I will recommend skies to anyone who is passionate about flying.
GP on 18th May-16
★★★★★
I was at Skies Aviation Academy for a type rating on beech 90 and I really enjoyed it. The team was really nice and friendly, the instructor was professional and with a big experience. Nowadays I have a job in Africa and i do my first real hours on king air. Thanks again for the course and to all of your team.
Callem on 19th Jan-16
★★★★★
My training at Skies Aviation Academy has been the best experience for me so far! Professionalism is not a word in Skies Aviation Academy but a law, the training I´ve got raises up to the highest standards and the staff beyond this level.From the second I arrived in Greece I was helped to settle in to the area during my training also every single thing that had to be solved has been taken care of by the staff of Skies Aviation Academy.
Damir on 8th Jan-16
★★★★★
I had the great luck to complete my professional training at Skies Aviation Academy. Not only I was trained by the highest training standards, I was given the chance to finish everything in minimum time and minimum hours. My interaction with the people of Skies Aviation Academy has been an amazing experience.
Sakis on 8th Jan-16
★★★★★
I just wanted to say a big thank you to everyone at Skies for making my time there really enjoyable. I recommend anybody who is thinking about revalidating or renewing their license to go ahead and do it with Skies Aviation Academy !! Skies offered the best price and the course was finished on time without any delays. Skies took care of all my transportation and accommodation needs while in Greece, making it very easy for me. Very friendly staff/instructors/examiner and of course flying in Greece is as spectacular as always with such beautiful scenery. Keep up the good work guys!
Richard on 8th Jan-16
★★★★★
Doing my training at Skies Aviation Academy in Thessaloniki has been a very good choice. The school provides a good Infrastructure, staff are very friendly and professional and were always helpful in every situation. I was able to complete my training in the time I had planned and learned a lot from my Instructors. In addition, having Thessaloniki Intl. Airport as the home base certainly is of benefit as you have to operate in a professional environment from the first flight on.
Iason on 8th Jan-16
Skies Aviation Academy Av. Thessalonikis 10Peraia Thessaloniki 57019 Greece